In our last blog post, we discussed the various kinds of materials that are used to make gutters and gave our top pick to be used for homes in McKinney, Wylie, Plano, Frisco and anywhere else in Collin County.
This week — now that we have the gutter material picked out — we'll be diving into the various gutter styles and shapes that are available, along with what we've experienced as the top choice (and best suited) for north Texas homeowners.
A Quick Rundown Of Gutter Styles
Surprising to many homeowners, gutters can come in many different shapes and forms — all with their own advantages and disadvantages.
Here is a short list gutter styles available today along with a brief description.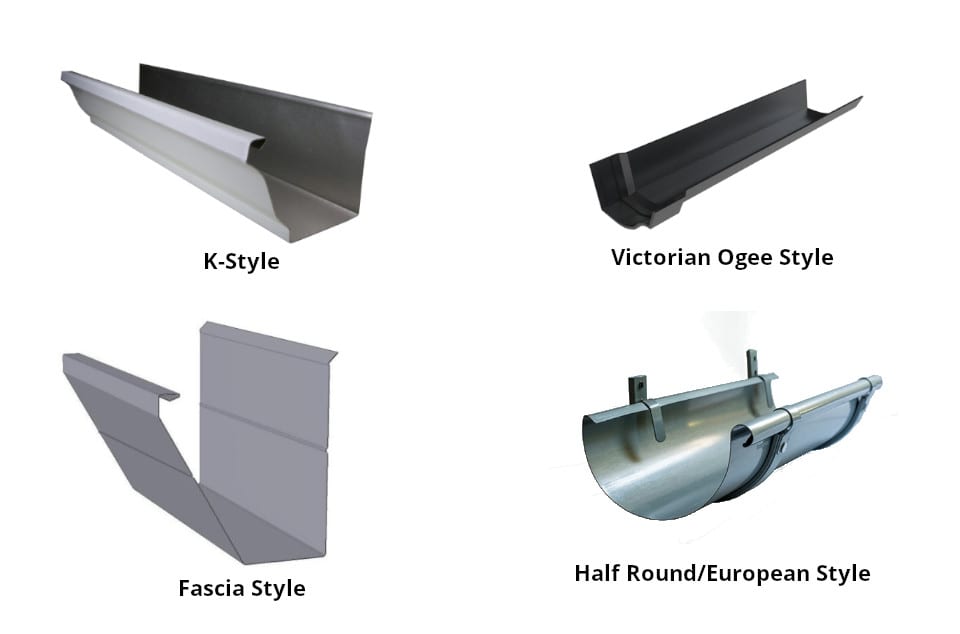 K-Style Gutters
Quick notes: K-style made to look like crown molding, aesthetically pleasing. Flat back gives flush mount which reduces leaking.
Fascia Style Gutters
Quick notes: Made to act as home's fascia (which covers the rafters) in place of the typical fascia used on homes. Deeper than most other gutter styles; may be more prone to clogging.
Victorian Ogee Style Gutters
Quick notes: Style based of older cast iron gutter systems used in the 1800's. Need to be custom made and are more shallow than other gutter types.
Half Round & European Style Gutters
Quick notes: Chosen mostly for aesthetically pleasing look. Not able to carry as much water as the other aesthetically pleasing k-style. European gutters are half round style with the bead turned outside to give a unique look. Not very well suited for gutter guard systems. Euro style typically made from copper.
The Most Popular Gutter Styles Used Today
Though you'll see most of these types of gutter styles still in use today (unlike certain "retired" gutter materials listed in the first part of this guide), on most homes in our area you'll most likely see either the K-Style or the Fascia Style gutters.
The reasons these two in particular are so popular are first because of their aesthetically pleasing and functional design and second because of their ability to carry more water, which lessens the chance of overflowing & clogging.
Our Top Pick For Gutter Style For North Texas Homes
With their combination of pleasing looks, functional design and affordability, we recommend installing k-style gutters for your Collin County home.
It's ultimately your choice as the homeowner, but as far as getting the best out of every possible feature that comes with gutter styles, you can't go wrong with the k-style gutters.